Musique en Hautes-Pyrénées : Heater Hill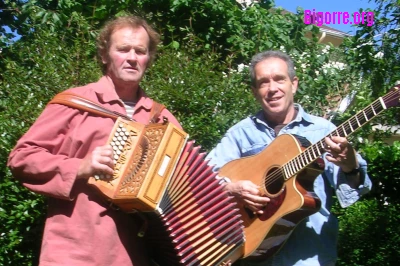 Heater Hill
Les « heather hills » ou collines aux bruyères constituent le paysage typiquement celtique que l'on peut rencontrer aussi bien en Irlande, qu'en Écosse ou même dans les Monts d'Arrée.
Créé en mai 2011, le duo « Heather Hill » propose un répertoire varié, axé sur le chant, et possède d'ores et déjà à son actif, une dizaine de concerts.
Les chansons, « en bon anglais », sont préalablement traduites.
Heather Hill est une formule particulièrement adaptée aux animations dans les cafés et à l'ambiance-cabaret. Un spectacle qui peut, si le public participe, « déraper » façon « troisième mi-temps » !

Composition :
BERNARD DUCLOS, guitare et voix.
Bien que natif de Lourdes, Bernard a longtemps résidé aux États-Unis où il s'est imprégné de la culture folk américaine. Écossais par alliance, il pense que la musique traditionnelle du pays au chardon vaut largement l'irlandaise. Il adore faire des arpèges tout en chantant à la tierce, sans pour autant, si besoin est, renoncer à faire la voix lead.
PHILIPPE AIMÉ, accordéon diatonique, whistle et voix.
« Ch'ti » installé près de Bagnères et vieux routier du folk celtique dans notre coin du Sud-Ouest, il a participé, à deux reprises, dans les années quatre-vingt dix, au Festival (off) de Lorient. Sur scène, son tempérament l'amène à aimer les chants de marins pour l'énergie qu'ils dégagent.

Répertoire :
Traditionnels irlandais et écossais : Dirty Old Town et le fameux Flower of Scotland.
Standards anglo-saxons : Sweet Caroline et Que Sera.
Chants de marins britanniques et bretons : What shall we do with the drunken sailor, Fanny de Lanninon, Le Pont de Morlaix.
Contact :