Au Cass'Croûte Bigourdan (Odos)
In a calm and warm place, in the morning a quick breakfast with colleagues, at noon an express lunch with his wife, in the afternoon a relaxing snack with friends.
Everything is possible, you have to know how to give yourself time to enjoy a coffee, a good snack, or a cupcake with tea.
Local products, traditional pastry, fresh artisanal bread: quality above all, to satisfy you.
address Au Cass'Croûte Bigourdan
82 Avenue de Lourdes
65310 Odos
+335 62 53 72 71
near
reviews on Au Cass'Croûte Bigourdan
Note de Au Cass'Croûte Bigourdan :
NC

sur 0 avis

latest reviews :

reviews on Au Cass'Croûte Bigourdan
News et spectacles à Odos
Saturday, June 25, 2022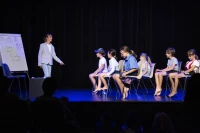 Nous avons vu
Donnez Votre avis sur Au Cass'Croûte Bigourdan
Photos around Au Cass'Croûte Bigourdan