Altitude : 1500-2100 m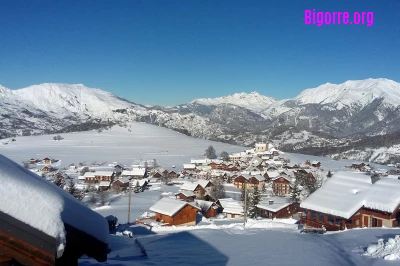 Albiez is located near is located near Saint-Jean-de-Maurienne à 7 km↑, Valloire à 9 km↑, Saint-Michel-de-Maurienne à 10 km↑, Saint-Etienne-de-Cuines à 15 km↑, La Chambre à 16 km↑, Val Thorens à 21 km↑,
Discover the pleasures of sliding gently, in a resort on a human scale. From beginner slopes to committed passages, the Albiez-Montrond area, with its 70 hectares of alpine slopes, is a varied playground for the whole family. In addition to skiing, a variety of "snow" activities, outings in the countryside and entertainment are offered every week. A virgin area with free access is at your disposal to discover snowshoeing, dog sledding, cross-country skiing or hiking, or even sledding and snowball battles ... Charming mountain villages, Albiez-Montrond, the resort, and Albiez le Jeune, site of Nordic activities, are located in an open and sunny area at the foot of the Aiguilles d'Arves. These villages with exceptional views offer quality accommodation in summer and winter: an ideal site for recharging your batteries and spending brilliant holidays.
Nearest ski resorts