The pub for those who like to listen to music, all kinds of music, three, four or five times a week. A must for the Tarbes scene!
Bigorre.org favorite in 2007 et 2011
address Le Celtic
1 rue de l'harmonie
65000 Tarbes
close by
reviews on Le Celtic
Note de Le Celtic :
♡♡♡♡♡

sur 17 avis

latest reviews :

😁Plein de musique, toutes les musiques et le sourire du patron
(Luc - Tarbes - Tuesday, March 22, 2022)

😁Pas de soirées concert au Celtic a cause du confinement. J'ai hate que tout ca soit passé pour qu'on retrouve le Celtic. On t'aime Jean-Louis !!!
(Laurence - Tarbes - Saturday, November 14, 2020)

😁Vivement la fin du confinement pour retourner au Celtic !
(Yves - Tarbes - Friday, March 20, 2020)
News et spectacles de Le Celtic
Monday, June 1, 2020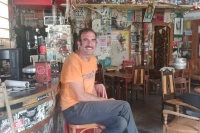 Interview
Monday, January 27, 2020
News
Split Second
Kévin Denard
Dieval & les Propulsions
Golden Gasoline
Tsar
...
Saturday, January 11, 2020
News
Mister Nils
The Watt Enterprise
Nicolas Woilet
GoshoGérald
Origin Pulse
...
Tuesday, December 31, 2019
News
News et spectacles à Tarbes
Agenda de Le Celtic
Monday, June 27, 2022
Cantera.
Billeterie
Tuesday, June 28, 2022
Plagiat
Tu sais, quoi!
Billeterie
Donnez Votre avis sur Le Celtic
2022
😁Plein de musique, toutes les musiques et le sourire du patron
(Luc - Tarbes - Tuesday, March 22, 2022)
2020
😁Pas de soirées concert au Celtic a cause du confinement. J'ai hate que tout ca soit passé pour qu'on retrouve le Celtic. On t'aime Jean-Louis !!!
(Laurence - Tarbes - Saturday, November 14, 2020)
😁Vivement la fin du confinement pour retourner au Celtic !
(Yves - Tarbes - Friday, March 20, 2020)
😁Super concert, super ambiance, super sympa
(Lucas - Tarbes - Tuesday, January 21, 2020)
2019
😁Pas besoin de commentaire, ce Celtic c'est Le Bar de Tarbes.
(Valentin - Tarbes - Sunday, June 9, 2019)
😁une programmation et une ambiance qui en font un lieu précieux pour Tarbes
(Vincent - Tarbes - Thursday, June 6, 2019)
😁Le Celtic, encore le Celtic, toujours le Celtic !!!
(Julien - Vic Bigorre - Friday, March 8, 2019)
2018
😁Merci Jean-Louis pour tous ces concerts, comme celui de ce soir avec Chu Tsao !!!
(Jean-louis - Tarbes - Friday, June 15, 2018)
😁THE bar de Tarbes!! Vive Jean-Louis!!
(Corinne - Compiegne - Saturday, April 21, 2018)
😁Y a pas a dire c'est au Celtic que ca se passe. Merci Jean-Louis pour ces super concerts
(Eric - Orleix - Friday, April 13, 2018)
😁LE bar de Tarbes qui depuis plus de 10ans propose des concerts et autres soirées éclectiques.Sans se prendre la tête jean louis est arrivé à s imposé comme une référence. Enfin un bar sans matuvu merci encore jean louis.
(Dominique - Ossun - Tuesday, April 10, 2018)
😁Super ambiance hier soir pour le micro et les mots. Heureusement qu'il y a le celtic !
(Louis - Tarbes - Wednesday, March 7, 2018)
2017
😁Rien à ajouter, tout est dit : Le Celtic est sans aucun doute le bar les plus sympa de Tarbes, pour boire une bière, pour discuter avec Jean-Louis et bien sur pour les concerts, encore les concerts et toujours les concerts !
(Sophie - Tarbes - Thursday, December 28, 2017)
😁Sans aucune hésitation le bar le plus sympa de Tarbes. Merci Jean-Louis pour tous ces concerts !
(Olivier - Tarbes - Saturday, April 29, 2017)
2016
😁Il y a les bars qui mettent de la musique pour mettre de la bière et il y a le Celtic qui vend de la bière pour nous proposer de la musique. Le lieu incontournable de tous ceux qui aiment la musique live dans toute sa diversité !.
(Stéphane - Barbazan Debat - Monday, December 19, 2016)
😁Toujours un plaisir de se retrouver au Celtic! Bonnes bières, bons whisky, bonnes musiques, grosse ambiance!
(Nico - Tarbes - Thursday, April 14, 2016)
Photos around Le Celtic