current weather for Mellunkylä (Finland)
currently :
34 °F

clear sky at Mellunkylä
the temperature is 34 °F, the temperature felt is 27 °F
Wind direction from North with a speed of 8 mph
relative humidity of the air is 93 % : between 0 (extremely dry air) and 100% (air saturated with water, appearance of water droplets again liquid suspended like fog or cloud)
pressure is 30 inHg : low-pressure regime, a harbinger of gray and even rainy weather.
weather last updated 17940 minutes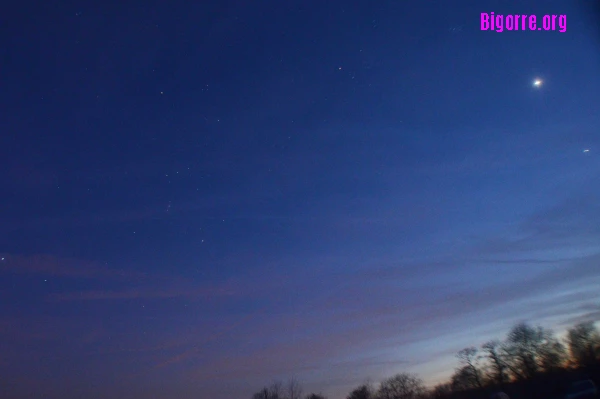 Mellunkylä is located close to Kurkimäki at 1 NM↑, Jakomäki at 2 NM↑, Tapanila at 3 NM↑, Ylä-Malmi at 3 NM↑, Pihlajisto at 3 NM↑, Pukinmäki at 3 NM↑, Vantaa at 4 NM↑, Kallio at 5 NM↑, Katajanokka at 6 NM↑, Veromies at 6 NM↑,
Altitude : 79 ft
Sun rises in 6h00 and the sun is setting in 12h27. The duration of the night is 17h32
For more details on short-term weather observations and forecasts, see the aeronautical weather provided by the Helsinki Vantaa airport.
Weather forecast for Mellunkylä (Finland)
Friday 15th of January 2021
Sky will be covered by cloud a large part of the night and the day will be cloudy from morning to evening 0 in snow in 24h
the temperature will range from 1 °F to 12 °F
wind speed up to 7 mph
extreme cold alert with 1 °F at Mellunkylä
Few clouds
relative humidity of the air is 85%
pressure is 30 inHg
Wind direction from North 7 mph
Light snow
0 in of snow
relative humidity of the air is 92%
pressure is 30 inHg
Wind direction from North 7 mph
Saturday 16th of January 2021
Sky will be clear all night long and the day will be cloudy from morning to evening
the temperature will range from 1 °F to 12 °F
wind speed up to 9 mph
extreme cold alert with 1 °F at Mellunkylä
Light snow
0.1 in of snow
relative humidity of the air is 94%
pressure is 30 inHg
Wind direction from North 7 mph
Overcast clouds
relative humidity of the air is 95%
pressure is 30 inHg
Wind direction from North East 8 mph
Scattered clouds
relative humidity of the air is 95%
pressure is 30 inHg
Wind direction from North East 9 mph
Scattered clouds
relative humidity of the air is 95%
pressure is 30 inHg
Wind direction from North East 9 mph
Scattered clouds
relative humidity of the air is 94%
pressure is 30 inHg
Wind direction from North East 8 mph
Scattered clouds
relative humidity of the air is 93%
pressure is 30 inHg
Wind direction from North East 7 mph
Clear sky
relative humidity of the air is 94%
pressure is 30 inHg
Wind direction from North 6 mph
Clear sky
relative humidity of the air is 94%
pressure is 30 inHg
Wind direction from North 4 mph
Sunday 17th of January 2021
Sky will be covered by cloud a large part of the night and the day will be cloudy from morning to evening
the temperature will range from 1 °F to 19 °F
wind speed up to 6 mph
extreme cold alert with 1 °F at Mellunkylä
Few clouds
relative humidity of the air is 95%
pressure is 30 inHg
Wind direction from North West 4 mph
Few clouds
relative humidity of the air is 95%
pressure is 30 inHg
Wind direction from North West 5 mph
Broken clouds
relative humidity of the air is 96%
pressure is 30 inHg
Wind direction from North West 6 mph
Broken clouds
relative humidity of the air is 96%
pressure is 30 inHg
Wind direction from North West 6 mph
Overcast clouds
relative humidity of the air is 96%
pressure is 30 inHg
Wind direction from North West 6 mph
Overcast clouds
relative humidity of the air is 96%
pressure is 30 inHg
Wind direction from North West 5 mph
Overcast clouds
relative humidity of the air is 97%
pressure is 30 inHg
Wind direction from North West 5 mph
Overcast clouds
relative humidity of the air is 97%
pressure is 30 inHg
Wind direction from North West 4 mph
Monday 18th of January 2021
Sky will be covered with cloud all the night and the day will be cloudy from morning to evening 1 in snow in 24h
the temperature will range from 1 °F to 30 °F
wind speed up to 12 mph
extreme cold alert with 1 °F at Mellunkylä
Overcast clouds
relative humidity of the air is 97%
pressure is 30 inHg
Wind direction from North West 3 mph
Broken clouds
relative humidity of the air is 97%
pressure is 30 inHg
Wind direction from South 2 mph
Scattered clouds
relative humidity of the air is 97%
pressure is 30 inHg
Wind direction from South West 4 mph
Light snow
0.3 in of snow
relative humidity of the air is 98%
pressure is 30 inHg
Wind direction from South 9 mph
Light snow
0.2 in of snow
relative humidity of the air is 98%
pressure is 30 inHg
Wind direction from South West 12 mph
Light snow
0.3 in of snow
relative humidity of the air is 98%
pressure is 30 inHg
Wind direction from South 8 mph
Light snow
0.2 in of snow
relative humidity of the air is 99%
pressure is 30 inHg
Wind direction from South West 11 mph
Light snow
0.2 in of snow
relative humidity of the air is 98%
pressure is 30 inHg
Wind direction from South West 10 mph
Tuesday 19th of January 2021
Sky will be covered with cloud all the night and the day will be cloudy from morning to evening 1 in snow in 24h
the temperature will range from 1 °F to 32 °F
wind speed up to 19 mph
extreme cold alert with 1 °F at Mellunkylä
snow with 1 in at Mellunkylä
Light snow
0 in of snow
relative humidity of the air is 96%
pressure is 30 inHg
Wind direction from South West 10 mph
Light snow
0.1 in of snow
relative humidity of the air is 98%
pressure is 30 inHg
Wind direction from South West 12 mph
Light snow
0.1 in of snow
relative humidity of the air is 95%
pressure is 30 inHg
Wind direction from South West 13 mph
Overcast clouds
relative humidity of the air is 97%
pressure is 30 inHg
Wind direction from South West 15 mph
Light snow
0.5 in of snow
relative humidity of the air is 98%
pressure is 30 inHg
Wind direction from South West 19 mph
Snow
0.6 in of snow
relative humidity of the air is 98%
pressure is 30 inHg
Wind direction from South West 19 mph
Light snow
0.2 in of snow
relative humidity of the air is 97%
pressure is 30 inHg
Wind direction from South West 17 mph
Light snow
0.1 in of snow
relative humidity of the air is 97%
pressure is 30 inHg
Wind direction from South West 17 mph
Wednesday 20th of January 2021
Sky will be covered with cloud all the night and the day will be cloudy from morning to evening 0 in rain in 24h 1 in snow in 24h
the temperature will range from 1 °F to 36 °F
wind speed up to 22 mph
extreme cold alert with 1 °F at Mellunkylä
snow with 1 in at Mellunkylä
Overcast clouds
relative humidity of the air is 98%
pressure is 30 inHg
Wind direction from South West 15 mph
Light snow
0.2 in of snow
relative humidity of the air is 99%
pressure is 30 inHg
Wind direction from South 18 mph
Light snow
0.4 in of snow
relative humidity of the air is 99%
pressure is 30 inHg
Wind direction from South 19 mph
Light snow
0.2 in of snow
relative humidity of the air is 98%
pressure is 30 inHg
Wind direction from South 19 mph
Light snow
0.5 in of snow
relative humidity of the air is 98%
pressure is 30 inHg
Wind direction from South 21 mph
Moderate rain
0.1 in of rain
relative humidity of the air is 98%
pressure is 30 inHg
Wind direction from South 21 mph
Weather forecast provided by OpenWeatherMap under licence CC BY-SA 4.0
Weather news