Current weather for Biarritz (France)
Current weather at Biarritz : few clouds with wind from South with a speed of 13 km/h.
The temperature is 55 °F, felt temperature is 54 °F
The relative humidity of the air is 67 % : between 0 (extremely dry air) and 100% (air saturated with water, appearance of water droplets again liquid suspended like fog or cloud).
Pressure is 30.47 inHg : anticyclonic regime, a harbinger of good weather even if mists can appear in the morning and persist because the wind remains weak.
Wind direction from North West with a speed of 7 kt
Last update 1107 minutes ago.
sunrise at 08:00 sunset at 18:39
For more details on short-term weather observations and forecasts, see the aeronautical weather provided by the Biarritz-Bayonne-Anglet airport
Current weather and forecast near to Biarritz
Biarritz (FR) à 0 kmAnglet (FR) à 2 kmCinq-Cantons (FR) à 3 kmBassussarry (FR) à 6 kmBidart (FR) à 6 kmBayonne (FR) à 6 kmArcangues (FR) à 6 kmLe Limpou (FR) à 7 km
Forecast for next 5 days at Biarritz (France)
Wednesday 19th of February 2020
Sky will be covered with cloud all the night and the day will be very cloudy with may be a small apparition of the sun
Temperature from 46 °F to 55 °F
Wind speed up to 5 kt
17h :
few clouds
humidity 71%
pressure 30.39 inHg
wind from North West 4 kt
20h :
scattered clouds
humidity 82%
pressure 30.36 inHg
wind from East 3 kt
23h :
broken clouds
humidity 88%
pressure 30.36 inHg
wind from South East 5 kt
Today Thursday 20th of February 2020
Sky will be mainly clear but cloud will appear and the day will be cloudy but the sun will appear.
Temperature from 45 °F to 54 °F
Wind speed up to 8 kt
2h :
broken clouds
humidity 86%
pressure 30.3 inHg
wind from South East 5 kt
5h :
scattered clouds
humidity 78%
pressure 30.24 inHg
wind from South East 5 kt
8h :
broken clouds
humidity 71%
pressure 30.24 inHg
wind from South East 5 kt
11h :
scattered clouds
humidity 66%
pressure 30.24 inHg
wind from South West 4 kt
14h :
few clouds
humidity 65%
pressure 30.24 inHg
wind from South 8 kt
17h :
clear sky
humidity 72%
pressure 30.27 inHg
wind from North West 8 kt
20h :
clear sky
humidity 85%
pressure 30.33 inHg
wind from South 1 kt
23h :
clear sky
humidity 88%
pressure 30.39 inHg
wind from South 1 kt
Friday 21st of February 2020
Sky will be covered by cloud a large part of the night and the day will be cloudy from morning to evening
Temperature from 46 °F to 55 °F
Wind speed up to 5 kt
2h :
clear sky
humidity 92%
pressure 30.45 inHg
wind from South 3 kt
5h :
overcast clouds
humidity 87%
pressure 30.45 inHg
wind from South West 2 kt
8h :
broken clouds
humidity 91%
pressure 30.45 inHg
wind from South 3 kt
11h :
scattered clouds
humidity 83%
pressure 30.47 inHg
wind from South 3 kt
14h :
scattered clouds
humidity 70%
pressure 30.45 inHg
wind from North 2 kt
17h :
broken clouds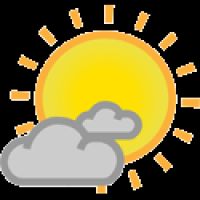 humidity 76%
pressure 30.39 inHg
wind from ↓ 5 kt
20h :
broken clouds
humidity 86%
pressure 30.42 inHg
wind from North 4 kt
23h :
broken clouds
humidity 87%
pressure 30.45 inHg
wind from North East 4 kt
Saturday 22nd of February 2020
Sky will be covered with cloud all the night and the day will be cloudy from morning to evening
Temperature from 45 °F to 59 °F
Wind speed up to 5 kt
2h :
scattered clouds
humidity 90%
pressure 30.45 inHg
wind from South East 4 kt
5h :
scattered clouds
humidity 92%
pressure 30.42 inHg
wind from South East 3 kt
8h :
broken clouds
humidity 91%
pressure 30.45 inHg
wind from South East 4 kt
11h :
broken clouds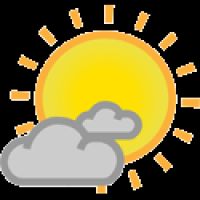 humidity 79%
pressure 30.47 inHg
wind from South East 3 kt
14h :
overcast clouds
humidity 65%
pressure 30.47 inHg
wind from North East 3 kt
17h :
overcast clouds
humidity 66%
pressure 30.45 inHg
wind from ↓ 5 kt
20h :
overcast clouds
humidity 84%
pressure 30.47 inHg
wind from North East 3 kt
23h :
overcast clouds
humidity 85%
pressure 30.47 inHg
wind from South East 3 kt
Sunday 23rd of February 2020
Sky will be covered with cloud all the night and the day will be very cloudy with may be a small apparition of the sun
Temperature from 46 °F to 57 °F
Wind speed up to 6 kt
2h :
broken clouds
humidity 87%
pressure 30.5 inHg
wind from South East 2 kt
5h :
broken clouds
humidity 85%
pressure 30.45 inHg
wind from South East 4 kt
8h :
broken clouds
humidity 82%
pressure 30.45 inHg
wind from South East 3 kt
11h :
broken clouds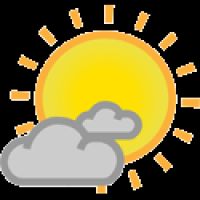 humidity 66%
pressure 30.45 inHg
wind from South 2 kt
14h :
broken clouds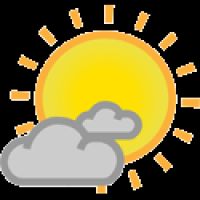 humidity 58%
pressure 30.45 inHg
wind from South 4 kt
17h :
few clouds
humidity 65%
pressure 30.42 inHg
wind from North West 6 kt
20h :
scattered clouds
humidity 88%
pressure 30.45 inHg
wind from South West 5 kt
23h :
broken clouds
humidity 91%
pressure 30.5 inHg
wind from South 4 kt
Monday 24th of February 2020
Sky will be mainly clear but cloud will appear and the day will be cloudy from morning to evening
Temperature from 46 °F to 59 °F
Wind speed up to 4 kt
2h :
scattered clouds
humidity 93%
pressure 30.53 inHg
wind from South West 4 kt
5h :
clear sky
humidity 95%
pressure 30.5 inHg
wind from South 4 kt
8h :
clear sky
humidity 95%
pressure 30.47 inHg
wind from South 2 kt
11h :
scattered clouds
humidity 87%
pressure 30.47 inHg
wind from South East 3 kt
14h :
scattered clouds
humidity 64%
pressure 30.42 inHg
wind from East 3 kt
Weather forecast provided by OpenWeatherMap under licence CC BY-SA 4.0
+ de weather news